IT9517 Evaluation board distributor
We'd like to proudly present you next generation of ITE disruptive ASICs for COFDM modulation. The new chip is IT9517 is also known as Eagle2. The chip follows up the IT9507 Eagle model (DVB-T only) and adds to the table the ISDB-T modulation scheme.
In the picture the IT9517 evaluation board ready for distribution and tests. Practically speaking, the board can be driven in two ways: I2C/TS for embedded test or through USB.
Avalpa is introducing IT9517 Evaluation boards in the Italian and European markets so feel free to get in touch with us on the dedicated web forum (or by mail for confidentiality) for evaluating interesting use cases for these little rascals! An impressive flood of digital television consumer solutions are coming.
MHEG-5, the UK standard for interactive digital tv is well spread in many places of the world. Lot's of tv sets and decoder are compliant with such a robust and powerful technology; the latest features added being the video on demand (VOD) service for hybrid tv sets, called MHEG-IC and well deployed thanx to services as BBC iPlayer.
With Mheg, there's a small issue, anyway. The standard is supposed to be a bit difficult to program and so not many apps are being developed. We are here to change such a situation. Everybody would be able to develop and deploy new MHEG5 apps.
In fact, Avalpa, as a global player in the interactive tv world, has been involved in some MHEG5 development too and now it's time to share our achievement. If you want to know more about it, please contact us.
Here it's a small demo roll that will show you what we are talking about. You can easily transmit as DVB-T mux (QAM16, GI 1/4, FEC 2/3)
Read more...
OpenCaster bundle with USB modulator card
Finally, in 2013, playing with interactive digital television has become suitable for ALL the budgets.
simply BREAKTHROUGH!! With less then 200$ (and way less EURO!!), you can purchase the OpenCaster BUNDLE Dongle here.
Let's proudly present the latest achievement along the process of commoditization of interactive digital tv.
Some proceedings of the sales will further enhance OpenCaster development. Registered users CAN send hints about preferred new features. Write us and don't be shy!
Read more...
Avalpa products for broadcasting
Many broadcasters are already digital with the basic technology deployment: a DVB mu
x with video services packed together and a name sticked on it, thanks to a single Avalpa Broadcast Server rack solution is now possible to improve your digital mux services with:
Electronic program guide, to present a detailed schedule of next events in your tv network, so people could know in advance what to expect on tv (user manual). You can test it online!
Mhp - Mheg5 - HbbTv - Ginga  server, enabling your tv network to interactivity. You can easily distribute interactive advertisement, OTT VOD launcher, games, music, services of the Public Administration and voting games. These could be very compelling for your audience.
Teletext, the plain good old system for news datacasting!

Logical channel numbering, to get a number on the customer remote control, and avoid be buried in the "800 something.."
DVB-SSU OTA carousel, to allow set-top-box and tv manufacturers to upgrade their equipment
DataCarousel, and you'll squeeze all the value of your spare bandwidth from new customers like banks, retail chains and so on, for their corporate services.
Integration of locally playout of pre-encoded MPEG2/h264 video and audio for non-live services
new re-multiplexing functions can now avoid additional hardware costs for your head end , ask us for more details
Read more...
Avalpa has a long history of TV apps development! You can grasp the compact brochure in english (or italian). Here follows some examples from different contexts:
Classical weather information: the application server broadcast updates the images so it is not necessary to increase the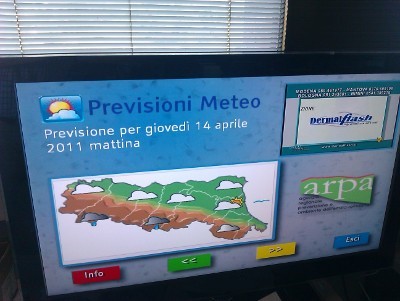 bandwidth while increasing the number of images, this is very suitable for webcams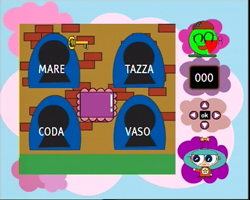 Edutainment applications for kids programs: a fun mixture of e-learning,  game skills, basic sounds and simple graphics for first grades kids, it featured main character speak from a famous italian actor and compelling story line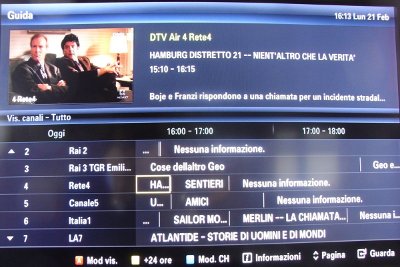 Classical Electronic Program Guide: can u live without ?

Video On Demand: in all its possible solutions as IPTV walled garden, OTT, NearVOD for  broadcast, ...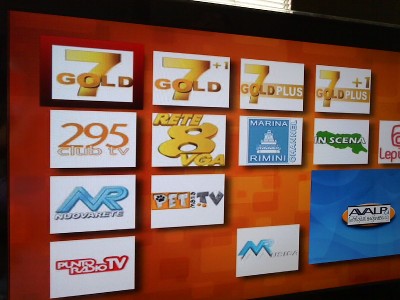 Mosaic: we can offer u all the kind of mosaic: live images, logos, screenshots, audio change, really, whatever...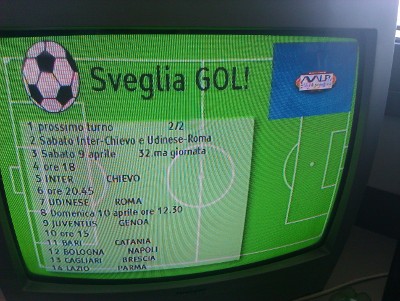 Event related applications: add more fun and information to your audience
Read more...