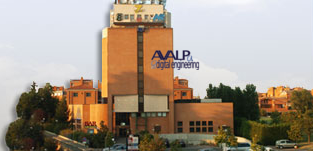 Avalpa Digital Engineering SRL
Via dell'Arcoveggio 49/5

I-40129 Bologna

P.IVA and C.F. 02831521204
You can contact Avalpa in many ways.
Web site: www.avalpa.com
Email address: This e-mail address is being protected from spambots. You need JavaScript enabled to view it
Skype: andreav66
Phone:+390514187531
Fax: +390514173985
How to reach us:
If you come by car get the exit n.6 of the Bologna bypass road.
If you come by airplane, you'll need to take a cab at Bologna airport. It's just a 5 minute ride.
If you come by train, stop at Bologna Central Station, then you can get a cab too, or get a less expensive bus (1 EUR ticket on board) in ( square) Piazza XX settembre (it's the central bus station near the train station); the bus number 11 , getting out of the center, stops in front of our offices. Please ask the driver if unsure where to get out.